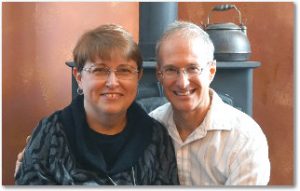 We are Gary and Audrey and work together as a team assisting Allen County, Indiana residents with their home remodeling needs. We have been in business for 21 years with nearly 30 years of carpentry experience. Communication, quality work, trustworthiness and commitment are what set us apart from other area handyman businesses. You can have confidence that when you contact us your call, text or e-mail will be returned within 24 hours. Click here to learn more about us and please visit our testimonial page to hear what others have to say about our work.
Installations:
Interior and Exterior Doors
Storm/Screen Doors
Vinyl Flooring
Ceramic Tile Flooring
Floating Wood Floors
New Windows
Replacement Windows
Door Knobs/Locks
Ceiling Tile
Attic Steps
Ceiling Fans
Garbage Disposals
Wall Coverings:
Drywall
Drywall Repairs
Paneling
Priming/Painting
Install Trim
Stain or Paint Trim
Strip/Hang Wallpaper
Textured Ceilings
Hang Curtain Rods
Hang Pictures/Mirrors
Hang Shelving
Exterior Work:
Install Soffit/Facia
Install Gutters/Downspouts
Install T-111 Vertical Siding
Wrap Windows with Metal
Repair Deteriorated Wood
Paint/Stain
Repair Decks/Fences
Powerwash
Chimney Patches
Repair Siding/Roofing
Hang Shutters
Clean Gutters
Other Work:
Trim Bushes/Small Trees
Install Mail Box Posts
Mulching/Minor Landscaping
Kitchen Faucets
Minor Electrical
Install Bath Exhaust Fans
Clean Windows
Install/Clean Dryer Vents
Install Pet Doors
Re-stretch Carpeting
Help Doors to Smoothly Close
Need something done that you don't see listed?  Contact Us and we can let you know if we can help you.
If we aren't able, we might have a company or individual we can refer you to.
As of July 1, 2018 all jobs will be at our new rate of $35 an hour.  This is the first rate increase we have had in 13 years.  Jobs lasting more than 30 hours will be discounted at a $30 an hour rate.  We have a minimum $45 charge for any jobs less than 90 minutes.  All jobs will have a minimal fuel charge added to the bill.

We no longer provide free estimates.  Any needed estimates will be at our hourly rate as described above.

The clock starts from the time we leave our drive in Leo to 10 minutes after we submit the invoice to you for payment. 

There is a flat trip charge (includes fuel) of $25 for any jobs in the west, southwest or southeast parts of Allen County. If you live outside of Allen County, please contact us for a trip charge quote as rates are higher.

Materials can either be provided by us or by you, the customer.  If you require us to pick up materials, a down payment in advance via check or cash will be required. There is a minimum fuel charge per trip for us to provide any materials from local stores.

Our work day typically starts between 8:00 and 8:30am and ends no later than 5:00pm. We work Monday-Friday only. 

If you are a new customer, we will require you to be home at the time we arrive on the first day to fill out paperwork. You MUST be home at the time the work is completed so we can be paid or you need to make arrangements for someone to be there to pay us.
We DO NOT accept payment installments nor credit cards. Payment is expected to be paid in full at the end of the time period we originally scheduled you for.

Any checks must be made payable to Gary Queckboerner. 

Any checks with insufficient funds will be billed to you for the fees incurred on our part (both the work and the fees will then have to be paid immediately in full with cash only) and may require us to deny you any future work.

No jobs for landlords/rentals, no exceptions.
Please use our Contact Form or leave us a message at 260-627-8822 with your name, phone number and a detailed description of the work you need.  Audrey will return your call or e-mail within 24 hours.  You may also text us at the same number.
"The custom-made bookcase/entertainment center Gary built for us is beautiful!!  We appreciate his outstanding craftsmanship.  We are very pleased."

– Dave and Judy L, Fort Wayne