** ATTENTION:  All new customers and any previous customers before January 2022 MUST scroll down to the section below titled "HOW WE CHARGE", read the entire section than text, e-mail or use our contact form to let us know in writing that you have read and agree to our terms and THEN we will schedule your work.  Thank you! **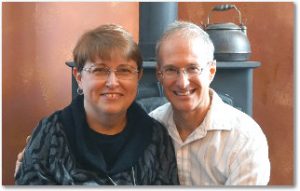 We are Gary and Audrey and work together as a team assisting Allen County, Indiana residents with their home remodeling needs. We have been in business for 25 years with 30+ years of carpentry experience. Communication, quality work, trustworthiness and commitment are what set us apart from other area handyman businesses. You can have confidence that when you contact us your call will be returned within 24 hours (and even faster if you text). Click here to learn more about us and please visit our testimonial page to hear what others have to say about our work.
Installations:
Interior and Exterior Doors
Storm/Screen Doors
Vinyl Flooring
Ceramic Tile Flooring
Floating Wood Floors
New Windows
Replacement Windows
Door Knobs/Locks
Ceiling Tile
Attic Steps
Ceiling Fans
Garbage Disposals
Wall Coverings:
Drywall
Drywall Repairs
Paneling
Priming/Painting
Install Trim
Stain or Paint Trim
Strip/Hang Wallpaper
Textured Ceilings
Hang Curtain Rods
Hang Pictures/Mirrors
Hang Shelving
Exterior Work:
Install Soffit/Facia
Install Gutters/Downspouts
Install T-111 Vertical Siding
Wrap Windows with Metal
Repair Deteriorated Wood
Paint/Stain
Repair Decks/Fences
Powerwash
Chimney Patches
Repair Siding/Roofing
Hang Shutters
Clean Gutters
Other Work:
Install Mail Box Posts
Kitchen Faucets
Minor Electrical
Install Bath Exhaust Fans
Clean Windows
Install/Clean Dryer Vents
Install Pet Doors
Re-stretch Carpeting
Help Doors to Smoothly Close
Starting January 1, 2023, all jobs will be charged at our hourly rate of $45 an hour.  We have a minimum $90 charge for any jobs less than 2 hours.  All jobs will have a daily trip charge and a $15 administrative fee added to each invoice.  We do not provide estimates for jobs. 

Daily trip charges range from $25-$50 within Allen County.  Trip charges outside the county are more depending on location.  Please ask if you need to know specific amounts.  Road construction causing delays in travel will cause this amount to be  more during summer months.

The clock starts from the time we leave our drive in Leo to 10 minutes after we submit the invoice to you for payment.  

Please be respectful of our busy schedule and tell us everything you are wanting done AT THE TIME OF SCHEDULING to help us know how much time to allow for your projects and what tools/equipment we need to bring prior to arriving.  Please do not add work on AFTER we have arrived as sometimes we schedule customers back to back and cannot be late for our next appointment.  If you have any questions concerning this, please text or call our office.

Materials can either be provided by us or by you, the customer.  If you require us to pick up materials, a down payment in advance via check or cash will be required. There is a minimum fuel charge per trip for us to provide any materials from local stores.

PLEASE NOTE:  Our work day typically starts around 8:00am and we aim to be picking up tools, cleaning up debris and making out paperwork AT 4:00pm so we are leaving your drive NO LATER than 4:30pm.  Any work not completed by 4:00pm will have to be scheduled for another day so please do not ask us to work beyond that time.  If there is an extreme emergency that might be required for us to work beyond 4:30, overtime rates of $90 an hour applies.

  We work Monday-Friday only. 

If you are a new customer, we will require you to be home at the time we arrive on the first day to fill out paperwork and show us the projects you are needing done.  If you have a list, we encourage you to prioritize those projects which are most important and we will take care of those first.

All customers MUST be home at the time the work is completed so we can be paid or you need to make arrangements for someone to be there to pay us.  Payment is expected to be 

paid in full with a check or cash at the end of the time period 

we originally scheduled you for.  

We DO NOT accept any online payments, payment installments, credit cards or checks sent to us in the mail for final payment.  Any payments due that are not received when work is completed will incur a $25 late fee.  Checks must be made payable to Gary Queckboerner.  

Any checks with insufficient funds will be billed to you for the fees incurred on our part (both the work and the fees will then have to be paid immediately in full with cash only).

We are not responsible for hauling away any garbage/debris.  If an item cannot be easily cut up to be put in your garbage container, we recommend that you visit the City of Fort Wayne's website for what is allowed to be put out at your curbside and what will require a pick up from the city.  We no longer haul away any garbage/debris/recyclables so please don't ask.

No jobs for landlords/rentals, no exceptions.

Due to health issues we can no longer do any landscaping jobs (trimming bushes would be the exception).
** All new customers must text (260-627-8822) or use our contact form to notify us in writing that you both read and agree to the above terms before we will schedule your work. **
The fastest to reach us is by texting us at 260-627-8822.  You will usually receive an immediate response if you text between the hours of 8am-9pm, 7 days a week.  If you do not text, you can use our contact form and we will get back with you via e-mail.  You may also call and leave a voice mail message.